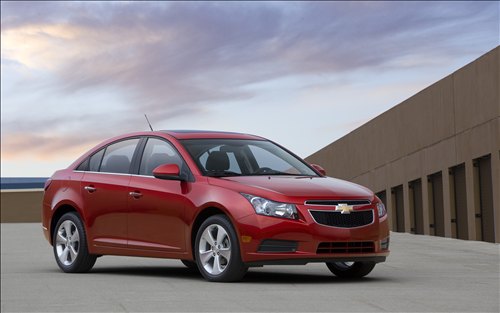 General Motors (GM) has been absolutely transparent when it comes to new product reveals, choosing to show as much as they can about a future product even before it goes into production. This move on GM's part is meant to shore up consumer and shareholder confidence, offering proof that the automaker is heading in the right direction by building smaller, much more fuel efficient vehicles.
Introducing The Chevy Cruze
One of the cars that will influence GM for years to come is the Chevrolet Cruze (pronounced cruise) a compact car slightly larger than the current Chevy Cobalt. Originally, it appeared that GM would replace the Cobalt with the Cruze, but after the August 2008 press reveal in Lordstown, Ohio, management has indicated that the Cobalt may soldier on as a separate model.
Regardless of where GM stands with the Cobalt, the Cruze is the car that could make or break the automaker when it goes on sale in Europe beginning in Spring 2009 followed by its US debut one year later. Though the US model will probably have a slightly different powertrain offering than what the European market will see, GM says that the Cruze will still get at least 40 mpg on the highway. Not bad for a gasoline model, putting it in the diminutive Smart Fortwo's territory while delivering a bigger and safer car.
Excellent Engine, Transmission Choices Means 40+ MPG Highway
GM says that the Cruze will be available with 16-valve, 1.6-liter (112 hp) and 1.8-liter (140 hp) gasoline engines featuring variable valve timing (VVT) on both inlet and exhaust sides. This will give the car additional power as well as better fuel economy while producing lower emissions. The automaker's new 2.0-liter turbo diesel, developing 150 hp will add more power with even greater fuel thriftiness. A five-speed manual transmission will be standard, but an optional six-speed automatic transmission will round out the Cruze's offerings. The latter transmission choice is unusual in that it'll be the first time that a six-speed transmission is used in the compact car class.
Interior styling is still a bit of a mystery, one that GM plans to talk more about when the car officially makes its debut at the Paris Auto Show in September 2008. Seating for as many as five occupants is likely, with optimum capacity for four adults.
Will customers be attracted to the Cruze? That remains to be seen but with its arching roof-line and coupe-like proportions, the Cruze certainly has a sporty flair, something lacking in most cars of its size.
Look for the 2011 Chevrolet Cruze to appear in North American Chevy showrooms by Summer 2010.
Copyright 2008-2012 -- Matthew C. Keegan is the owner of a successful writing and marketing business based in North Carolina, USA. He manages several websites and is a contributing writer for Andy's Auto Sport, a retailer of quality carbon fiber hoods and intakes.
Article Source: http://EzineArticles.com/?expert=Matthew_Keegan